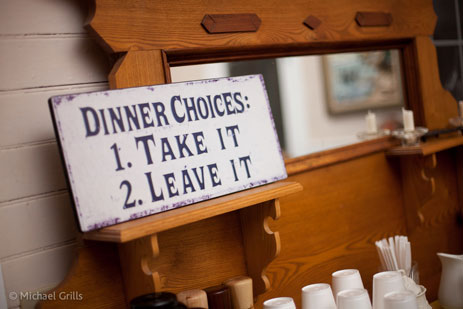 Jackson's Falls "Public" Schoolhouse, the next great venue in Prince Edward County! We are opening our doors to the general public for events such as native-inspired dining, live music, movies and pub nights. The unique one-room schoolhouse is licensed and can hold up to 36 people. Available for groups bookings and private events.
Make sure to like us on Facebook to find out about upcoming happenings.
Click Here to view
UPCOMING PUBLIC HOUSE EVENTS
SAMPLE MENU:
Appetizers
Chilled Pea & Corn Soup w/squash croutons / 10.
Farm Salad w/house maple sumac vinaigrette / 11.
Smoked Whitefish & Bannock Fritters / 14.
Entrees
Warm Roast Elk Salad w/new potatoes, charred broccoli, romesco sauce / 26.
Smoked Duck Breast w/3 sisters' succotash, sumac crème fraiche / 28.
Pike Pickerel Perch "Pot au Feu" w/lye corn, leeks, peas, ham, fennel fronds / 29.
Wild Rice & Red Currant Stuffed Cabbage Roll hazelnut emulsion, wild rice & sweet pea pancake (vegan) / 20.
Desserts
Strawberry Shortcake: lemon pound cake, honey macerated strawberries, maple Chantilly / 8.
Chocolate Berry Mousse: avocado chocolate mousse layered w/seasonal berries & coconut whipped 'cream', maple syrup drizzle (vegan/gluten free) / 8.
Blueberry Sabayon: w/Gran Marnier / 8.
We are happy to accommodate dietary restrictions.
Please speak to our staff when booking your reservation!